This period of self isolation has given me a little time to reflect on a connection between the two of the  best young and upcoming fanciers in the Dutch Pigeon Sport (Maybe two of the Worlds best in the future?) and two cocks bred by Janssen Brothers, Arendonk and owned by Mike Ganus.
These two fanciers are Christian vd Wetering (Wijk en Aalburg,NL)and  Maarten Huijsman (Hoogerheide, NL) and both have reached the very top of the pigeon sport with some of the most incredible lists of results that any serious fancier would be proud of.
Both fanciers have hit the 'Bulls Eye' with teams bred around their two foundation hens. In the case of Chris it is incredible hen 'Stareye' (Now transferred to the Jan Hooymans breeding loft) and in Maartens case it is the outstanding hen 'Miss Universe'.
Both of these hens have the golden blood of 'Champion 969' and 'Continental Class' flowing through their veins. And it is not by accident that they are world class! It is also no accident that these two young fanciers have been able to build and improve an already potent line. It is down to their own skill in breeding and selection through racing at the highest level and improving their winning DNA by crossing what they started with together with the very best of other renowned lines.
It is very clear that Maarten and Chris are able to produce such winning birds because that is their only ambition. Success in the races! And they also possess all of the skills required in an abundance.
If their aims would have been purely commercial then the birds would have been inbred and marketed as a 'strain' and when that 'strain' is no longer commercially popular discarded together with all of the other fashionable names that suddenly became unfashionable.  These are two real  young Pigeon Sport enthusiasts that thrive in the heat of competition of Pigeon Racing!
So what is the connection of the two cocks and the two fanciers?
In the late eighties Mike Ganus paid a loft visit to an elderly fancier in the Beerse region of Antwerp. There he was shown two stunning original Janssen cocks, BE-80-6305969 (later to become Champion 969) a direct son of the famous '019' and BE-80-6305946 (later to become 'Continental Class') a direct son of 'Jonge Merckx' one of the best ever in the Pigeon Sport.
Mike of course greatly desired these two masterpieces and although not in the prime of their youth managed to transfer them both to his breeding loft in Indiana, USA.
Mike carefully bred from them both with the best mates he could find and retained the majority of the offspring for his own breeding lofts where they where further selected on quality and results to form a truly sensational breeding team. It is fair to say that a good number of those original offspring would become incredibly famous in the States because of their fantastic results.
In the early nineties Mike set out to fulfill one of his lifes ambitions and started racing in the Netherlands. His original partner was Luc van der Weijst  in Alphen (The Dutch American Racing Team) and subsequently with the Colijn Family in Nieuwendijk. It was no coincidence that they flew into the ultra competitive Brabant  area of Holland.
Mikes 'Continental Class' and '969' bloodlines then returned over the Atlantic and joined the new 'Armada' of Dutch, Belgian and German National Ace winners plus many Olympic Ace Pigeons and some exceptional breeders . The very best of the best in the World!
'Stareye' of Christian vd Wetering was bred from a couple he had obtained from Jo Baas of , Brakel, NL. This gentleman was in the Dilling and Pile Driving business , the same as Hans Colijn in Nieuwendijk. Naturally they were both in the same industry and had the same hobby so would become friends. Jo was gifted the very best that Hans and Peter Colijn owned and it was a cock he bred from a gift pair that would become the cock of his 'Stam Pair' when coupled to a Flor Engles (Line 231 and 304) crossed Gommaire Verbruggen hen (Line Kadet).
The Jo Baas Stam Cock NL01-2064848 was bred from 'Young Class' a son of Mikes 'Michael Jordan' (Line Ludo Claessens) paired to  GFL92-310 a direct daughter of 'Continental Class'.  The mother of the Jo Baas Stam Cock was GFL97-382 a direct daughter of 'Godfather' (1st Dutch National Ace Midfond) paired GFL91-401 'Lichte 401' bred from a son of 'Champion 969'.
Grandfather of 'Stareye' is 'Crack' NL03-1373947 bred by Jo Baas directly from his Stam Pair and winner of 1st Pommeroeul 4991 birds,1st Pt St Max 4706 birds, 1st St Quentin 438 birds and son on.
'Stareye' became mother of not only 'New Harry' (Probably the most famous bird in the world right now and owned by Jan Hooymans)  but two separate 1st National winners in one year in the UK. The incredible success of her offspring has been very well documented.
Maarten Huijsman became friendly with Peter Colijn as a young teenager around fifteen years ago. On his many visits to Niewendijk over the following years he never left without a gift bird or two. One of these gifts was NL06-1165481 that would become the mother to 'Miss Universe', Maartens superior breeding hen.
This hen NL06-1165481 had GFL00-38 'Atomic'
as a father and NL02-01272410 'Debora' as a mother. "Debora' was bred from GFL92-175 'Clone Class' a direct son of 'Continental Class' when he was paired to GFL90-1693 'Blue Spirit' a daughter of 'Assured Gold' the best ever breeding son of 'Champion 969'! Mother of 'Assured Gold' was bred from a bother/sister pairing direct children of 'Super Crack Grusson'.
It should also be noted  that Maarten has a very capable protege Stef Bals, (Wouwse Plantage). another highly talented young fancier flying in Brabant 2000 in the Netherlands. Most students of the Dutch Pigeon Sport will already be familiar with his name and are also amazed at his incredible results against the very strongest competition in today's Pigeon Sport.
The principle breeding cock of Stefs is NL10-2847584 'NPO Man' and he has 'Mr Perfect' a direct son of his friends Maarten Huismans basic Hen 'Miss Universe' s a Father and as a mother NL08-1679240 one of the gifts to Maarten from Colijn, Ganus,Fox.
This hen became known as 'Inbred Topo Hen' and her father is 'Tristan' a direct son of 'GB04A38402′ Glyndwr' (Son of Young Couple) paired to 'GFL02-1482 'Brite Star' a daughter of 'Topo'. Her mother was GB04A38434 'Elise' a daughter of GFL03-1006 'American Ace' Car winner for Fox Ganus and bred from a son of 'Pinacle' (Ist Dutch National Ace' coupled with 'Knap' bred by Luc van der Weijst and Mike Ganus from a daughter of 'Assured Gold' the super breeding son of 'Champion 969'.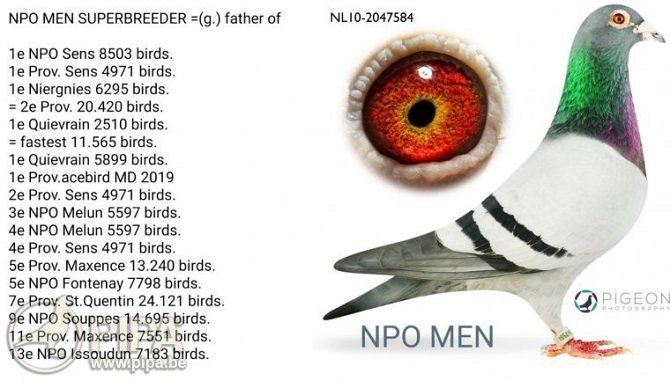 So, to conclude…top winning genes crossed with more top winning genes even four ,five,six or more generations later often breed even more top winning genes when selected through racing in tough competition when fanciers of the caliber of these three young 'Maestro's apply themselves.
It is not selecting for a pure bred type, name,'strain',fashion, as a target. It is selecting for results and results only. Its the only way forward in this great hobby of ours.