We must mention the super performance last Sunday of Stef Bals a real young Dutch talent in the Pigeon Sport. He added yet another eye catching result to his recent season performances by winning 1st and 2nd Provincial Pont St Maxcence against 10,026 birds and once again we are very proud to have contributed even in a small way to his latest Bulls Eye.
The first prize winner is NL20-1574106 a blue white flight grandson of Stefs good friend Maarten Huijsman's super hen 'Universal Lady'.
Maarten Huijsman became friendly with Peter Colijn as a young teenager around fifteen years ago. On his many visits to Niewendijk over the following years he never left without a gift bird or two. One of these gifts was NL06-1165481 that would become the mother to 'Miss Universe', Maartens superior breeding hen.
This hen NL06-1165481 had GFL00-38 'Atomic' as a father and NL02-01272410 'Debora' as a mother. "Debora' was bred from GFL92-175 'Clone Class' a direct son of 'Continental Class' when he was paired to GFL90-1693 'Blue Spirit' a daughter of 'Assured Gold' the best ever breeding son of 'Champion 969'! Mother of 'Assured Gold' was bred from a bother/sister pairing direct children of 'Super Crack Grusson'.
This is the same bloodline as the world renowned 'Stareye' of Christian Van Weteringen that is responsible for the New Harry dynasty.
The second provincial winner of Stef Bals is NL20-206959
The NPO Men is the foundation breeder of Stef Bals and he is the grandsire of the 2nd Provincial winner. NPO Men is a grandson of the same 'Miss Universe' when coupled to the NL08-1679240 'Inbred Topo Hen'
TOPO has got to be one of the most prepotent Champions of the last thirty years. His DNA still stands out in todays Pigeon Sport not only in these featured birds but many more like our very own champion racing and breeding hen Foxy Lady…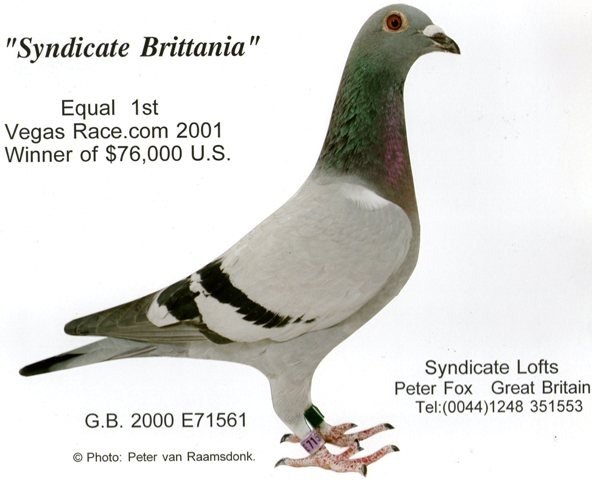 As a matter of interest, last week we also received the pedigree below from A.Houmes and Son of Middleburg via their friend Stuart Wilcox of their good racing hen 'NL20-2010172 'Farmergirl' the same bloodline again through the 'Ace Hen' 2nd national Ace Middle Distance winning daughter of 'The Inbred Topo Hen'.
Good winning blood just does not lie. If its good its good, maybe not the new 'Mania' but with careful cultivation by talents like Maarten Huijsman, Stef Bals , Christian Weteringen and Houmes and Son will continue deliver top level performances again and again.