These are two beautiful handling young nest mates of the very highest quality. They are direct from our fantastic breeding  hen RHIANNON when coupled with a direct son of the Super Breeding cock WAR DRUM! 
  Lot 1. Blue Pied Hen GB19A49670
Lot 2. Blue Pied Cock GB19A49671
Two direct from WITPEN MIKE..the direct son of GFL's ABAGAIL one of the very best One Loft Breeding Hens in the World!
Lot 3. Blue Cock GB19V51894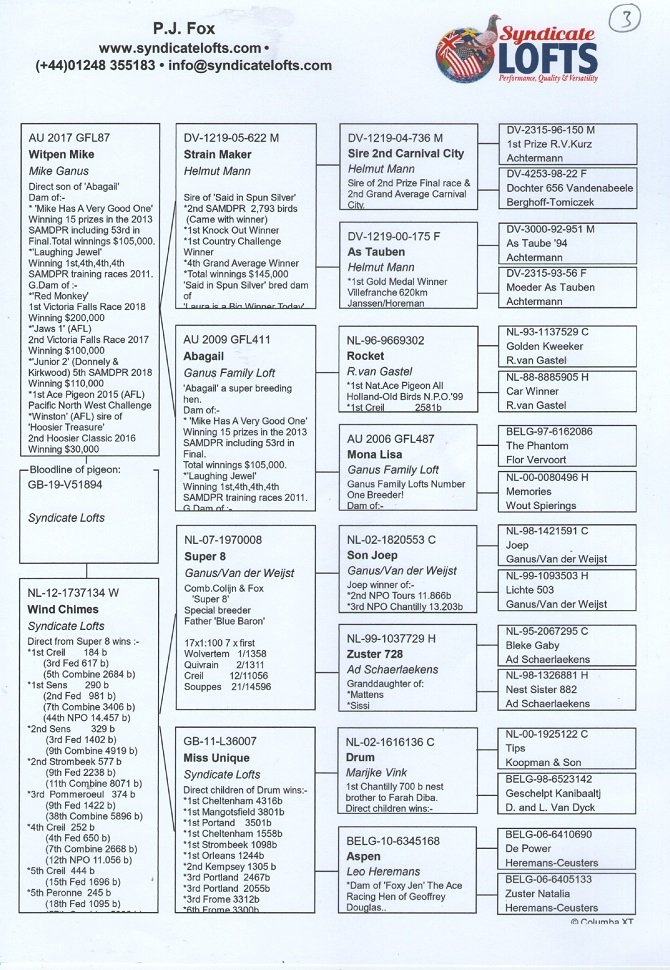 Lot 4. Blue Hen GB19V51895
One for the Leo Heremans fans! 
Lot 5. Blue Hen  GB19V51909
Direct daughter of Belofte.
Lot 6. Blue w/f hen NL19-1755721
Two from a son of PROPERE 10 and FOXY LADY with a daughter of WAR DRUM and a truly blue blooded pedigree of nothing but National Aces and Olympiade Champions.
    Lot 7 Blue Checker Pied Hen GB19V51864
Lot 8. Blue Checker Pied Cock GB19V51865 
Direct from our top breeder NITRO paired with the super breeding hen LADY LUCK. Inbred to the Legendry LUCKY LUKE. When we bought LADY LUCK from Dirk Leekens he retained one daughter from her that went on to breed his super racing hen CHALON winner of 1st National Argenton 8006b in 2017 and 2nd Provincial Asduif KBDB 2016 with 1st Prov. Chalon 1730b. (10 min. ahead) / 2nd Semi National 6746b., 2nd Prov.Chateauroux 2749 b. etc. LADY LUCK is the mother of Mellor Brothers (Milly's Loft) famous grizzle family winning over £30,000 in one loft races in the last few years.
Lot 9 Grizzle Hen GB19V51710
                                                                                                                                                                                      Direct from PROPERE RIK one of our current principle breeders. When paired to 'Sunday Girl' he bred the father of Mr A Stoner and Sons 1st Section E,2nd Open NFC Messac 2017 against approx 4800 birds. From the same pairing he bred the mother of Phil Bates and Sons 1st Chester 2B Championship Club 2016. When paired to 'Athenas Best' he bred the mother of 'Athenas Rossi' winner of 1st Provincial Ace Young Bird against 1900 members & 5th Dutch National Ace Young Bird 2017. Also with 'Athenas Best' he bred the dam of Phil Bates and Sons 1st North Section Welsh SE National Maidstone Young Birds in 2014. In 2017 when coupled to Foxy Lady he also bred a daughter winner of 2 x 1st and 1 x 2nd plus other early results for Price Brothers and Son.Also when paired to 'Eleven' he bred the sire of 8 x 1st clubs and 4 x 1st Fed's for Tim Atkins. When paired to 'Pixie' he bred the sire of Joe Raeburns (Via Hibbert Brothers) 1st West Section B.I.C.C. Guernsey 2 Any Age Race 2018. With 'Sunday Girl' he bred  'Propere Girl' owned by Macaloney and Son dam of: 1st Lanarks Fed Hexham 5992 birds,2nd Lanarks Fed Hexham 5992 birds, 3rd Lanarks Fed 890 birds, 4th Lanarks Fed 2,347 birds, 5th Lanarks Fed 2,347 b, 6th Lanarks Fed 2,356 birds.  With 'Sunday Girl' he bred 'Jennifer Lopez' the dam of ' Handsome Harry' for P Bates& Son *2nd North East Wales and West Wirral Fed *2nd Flint Gold Ring race West Bay *1st Wrexham Fed Messac 378 birds *1st Wrexham Fed Fougeres 463 birds. When paired to 'Carmen' he bred 'Stanstead Gold Bullet' winner of 49th in the South Africa Millions Dollar Race Final 2019 against 2,591 birds for the Paul Smith Syndicate (Bred by Hibbert Brothers).
Lot 10 Blue Cock GB19V5920
All National Ace Winners or Olympiade Ace Bloodlines.The best of the very best. Read carefully maybe a few times the sheer volume of prizes won by the immediate ancestors all crossed together. It's the best breeding strategy EVER!
Lot 11 Blue w/f Cock GB19V51992
     Lot 12 Blue Hen GB19V51993
Inbred to Jan Hooymans HARRY..Direct from SKYFALL our top breeding son of JAMES BOND!
Lot 13 Blue Cock GB19V51954
Lot 14 Blue Hen GB19V51955
Full Set,Pink Eyes,War Drum, Foxy Lady…and generations of National Ace and Olympiade Champions all crossed together to provide the genetic material required to win at the top level.
Lot 15 Blue Ch.Pied Cock GB19V51736
Lot 16 Blue Hen GB19V51737 
Two direct from BLUE AZURE direct from ABAGAIL. The very best of the best of Ganus Family Lofts of the last twenty years!
Lot 17.Blue Hen GB19V52001
 Lot 18.Blue Hen GB19V51906
This one is  from a son of the SAFIER COUPLE and a daughter of the FAVORIET COUPLE. Nothing better or closer is available anywhere from these original bloodlines.
Lot 19.Blue Ch Hen GB19V51929
Two direct from War Drum and Utopia!
Lot 20.Blue Pied Cock GB19V51899
 Lot 21 Blue Ch Pied Hen GB19V51900
Two direct from TOP STAR a truly outstanding breeder.
Lot 22 Blue Pied Hen NL19-1755756
  Lot 23 Blue Ch Hen NL19-1755758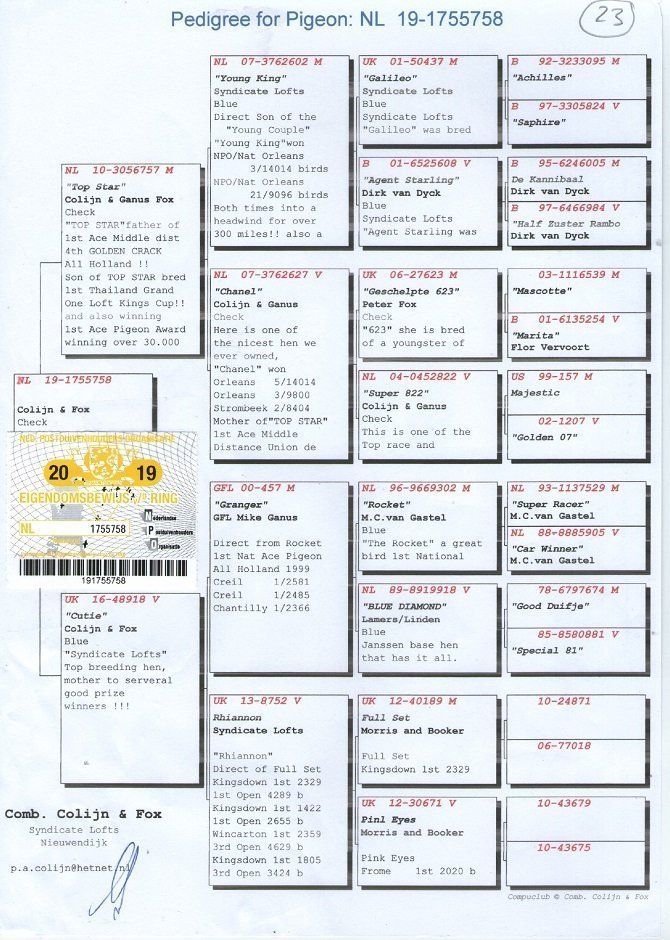 Same way bred as 'SHINE ON' 7th Algarve Golden Race 200km 4,507 birds (1st UK). 'SON FRIENDSHIP' also bred the sire of 1st MNFC Carantan 2019 against 4,440 b for Dean Cartmell.
Lot 24.Blue Hen GB19V51993
THE YOUNG COUPLE the best pair we ever owned and the bloodline is still as strong today in Classic and National racing as it has been for over 15 years, crossed with a direct daughter of the New Bliksem 1st National Tulle for Vandenabeele.
  Lot 25 Blue Cock GB19V51840
Another magnificent YOUNG COUPLE cock. Half brother to 'Basil ~The Racing Machine' 
Lot 26. Blue Cock GB19V51602 
 A top quality YOUNG COUPLE HEN with a legendary bloodline.                                            Her dam is ALICIA a very special hen indeed. She was bred by Gerard and Bas Verkerk probably the best all round fanciers of the Netherlands this last 30 years! ALICIA is now 10 years old and has bred Federation and National Section winners from the very first nest and has continued to do so. Her bloodline is quite fantastic and could only be bred by the Verkerks. Her sire is 'BULLDOZER' a fantastic racer winning 6th Best Doffer of the Netherlands WHZB '04 but also became a MIGHTY breeder with his descendants from various partners winning 1st NPO Bourges 9742 b, 1st NPO Vierzon 11,506 b,1st NPO La Souterainne 8625 b, 1st NPO Ruffec 3780 b.These are National NPO Races all over 400 miles. 'BULLDOZER' was bred from 'BIG THUNDER' an inbred son of the VERBART DUIVIN of Jan Ouwerkerk. Mother of 'BULLDOZER' is the legendry hen 'BUBBLES' bred by Ad Schaerlaeckens from all of his incredible winning bloodlines contained in just one pedigree. She was obtained at just 3 days old. Students of the Dutch Pigeon Sport will immediately recognise the influence this hen has had on the Verkerk team breeding Olympiade Champions, National Ace Winners, National NPO Winners and some truly sensational breeders over the years. Ever year she was paired to a different mate and bred to the same level with all of them!Considered one of the very best breeding hens in the Dutch Pigeon Sport history.
 Lot 27. Blue Hen GB19V51773 
  Two the same way bred as our young hen winner of 2nd Niergnies 433 birds , 19th Combine 3,864 birds this year. Also the same way bred as 'The Young Dude' 11th Hot Spot 1 SAMDPR 2019 against 2,334 birds also winning UK Country Challenge and a total of $1500. 
Lot 28 Blue Cock GB19V51866
Lot 29 Blue Hen GB19V51867
This was a very special pairing to concentrate the genes of the very best we have owned in the last fifteen years!  Drum and Dutch Master are full brothers of course and both bred from TIPS a son of Klein Dirk paired to a sister Klein Dirk. GERRIE is a direct daughter of Klein Dirk and she is probably his best ever breeding daughter. Most fanciers will immediately realise the potential as a superior cross for any other top class performance lines for classic and National racing. 
Lot 30.Blue Checker Hen GB19V51874
Lot 31.Ch Pied Cock GB19V51875
First one ever offered at auction from WITPEN MIKE..the direct son of GFL's ABAGAIL one of the very best One Loft Breeding Hens in the World paired to the Incredible FOXY LADY!
Lot 32.Blue Cock GB19A49669
Lot 33. Blue Cock GB19V51901
Lot 34.Blue Hen GB19V51902 
A fantastic quality direct child of our top breeder BANDIT.                                                         
In 2011 BANDIT bred GB11-129 'EMERALD ACE' winner of 1st Ace Pigeon Emerald Classic One Loft Race against 658 entries with a 17 minute lead. 
In 2012 he bred GB12-402 AMAZING winner of *1st Grimbergen 587b (32nd Combine 6233b) *1st Creil 477b (16th Nat. NPO 25.437b) *2nd Nijvel 483b (74th Combine 5989b) *3rd Peronne 227b (68th Combine 3449b) *4th Grimbergen 344b (83rd Combine 4609b) *5th Creil 268b (50th Combine 2775b) *7th Nijvel 400b (28th Combine 4.188b).
In 2013 he bred GB13-636 KING CRIMSON winner of *1st U.K.304b, 3rd International 4065b Car Race SAMDPR *2nd U.K.319b, 8th International 4028b Training Race SAMDPR.
He bred GB13V28525 'Kamisori Bomber' now breeding very well for his new owner Hiroshi Ideura in Japan. His first youngster was JAPAN14-KA37733 Blue Hen 'Ururu' bred by Hiroshi Ideura  and she was entered into the Hiroshima International loft one of the most prestigious and toughest One Loft Races in Japan where she won 6th against 1155b in the 300km race, 35th against 958b in the 400km race and then 4th against 618 birds in the final race from Kurobe 500km. Ururu won 2nd Ace Pigeon (only on final 3-races).In 2017 JAPAN 17KA37826 won 1st prize against 1,094b the Hiroshima International Loft Race from Kyoto 200km. He was bred from Blue Cock 'BAR ROOM HERO' a grandson of Bandit who himself was raced in the Hiroshima International loft 2015 where he won 25th against 1,115b in the 200km race, 29th against 713b in the 300km race and then 2nd against 281b in final race from Kurobe 500km.The mother of JAPAN17KA37826 is AUGUSTAS a full sister to 'URURU' again through Bandit.
In 2013 Bandit also bred the dam of 'Foxy Lady' the super hen of Price Brothers and Son and winner of *1st Section 987b,2nd Open 8,984b MNFC Countances *1st Section 745b, 2nd Open 5,612b MNFC Acensis *1st Section 1,125b,3rd Open 8,359b MNFC Fourges
Lot 35 .Blue Hen GB19V51838   
This is not only a really top quality young cock but his bloodline is quite simply the best we can produce.
Lot 36.Blue Pied Cock GB19V51876
Direct  from our top breeder NITRO paired with a direct daughter of GOLAN x FOXY LADY. It is doubtfull if any better National Winning Bloodlines exist! 
Lot 37.Blue Pied Cock   GB19V51896
 Lot 38.Blue Hen GB19V51897
 Direct from 'Chico' probably the best breeding son of Hannibal and without doubt his successor…We can verify over 60 x 1st prize winners from this great cock in the first and second generations when paired to different hens and for many different fanciers…
Lot 39. Blue Checker Hen GB19V51722
    Direct from CHICO with a daughter of FOXY LADY
  Lot 40. Blue Hen GB19V51868
A must for One Loft Race fanciers. He is direct from our 'Portugal Pair' one of the most exceptional young breeding pairs we own considering they have been very lightly bred from in only three seasons!                                                                                                                              Lot 41 the same way bred as 'BLUE AND LONESOME' the winner of 1st Ace Pigeon and Car Winner in the Golden Algrave One Loft Race 2017 against 5,097 birds entered by 1700 fanciers. He was 32nd in the Final race in a very tricky contest when only 58 birds on the day from a final entry of 2,660 birds. He was clear by one and a half hours to win the Ace Bird Award and a car and was subsequently sold for €16,000.
Another full sister is 'SHOOT TO THRILL' winner of 1st UK, 12th International Hot Spot Ace Pigeon SAMDPR 2018.
Another full brother is 'STREET FIGHTING MAN' 13th Prize British Masters One Loft Semi Final and 16th British Masters Final Race 265 birds 2019.
Another full brother is 'BLUE CLOUD' sire of 'PSYCHEDELIC STAR' winner of 34th Prize in the Golden Algarve One Loft  Final Race 2019 against 3,522 birds form over 500 km once again in heat and a headwind that made it a very testing contest.
        The best of the very best crossed together.
Lot 42. Blue Hen GB19V51913
   Lot 43 Blue Hen GB19V51914
This is  another one for the One Loft Race enthusiast. A small round bodied hen that carries very little weight and is at its best in 300 mile plus headwind races. She is the best of the best of Mike Ganus…Mona Lisa, Rocket,and Phantoms Legend crossed with the Drum bloodline. The best of the very best. Read carefully maybe a few times the sheer volume of prizes won by Lot 6's immediate ancestors all crossed together. It's the best breeding strategy EVER!
Lot 44 .Blue Hen GB19V51853
Direct from our Ace Breeder MAX a direct son of the Ultra Successful NIEUWE ROSSI and EENOOGSKE alias the NEW DREAM COUPLE of Leo Heremans… Max is the father of NL14-708 *16th Nat.NPO Fontenay 7,068b (1st 480b ~ 4th 1,596b)*24th Nat NPO St.Just 5,838b (1st 155b ~ 8th 1,221b)*24th Combine Quievrain 4,994b (2nd 350b ~ 8th 1,453b)*58th Nat.NPO Creil 10,127b (1st 181b ~ 11th 2,275b)*59th Nat.NPO Roye 15,577b (4th 216b ~ 16th 3,479b)*85th Nat.NPO Nanteuil 7,620b (3rd 603b ~ 11th 1,555b) *81st Combine StQuentin 3,788b (4th 438b ~ 12th 1.316b)*90th Combine Nanteuil 3,520b(6th 255b ~ 15th 1,182b)~NL15-846 *2nd Provincial Oudenaarde 8,027b (1st 1,041b ~ 2nd 2,958b) *4th Combine Quivrain 3,627b (1st 349b ~ 2nd 1,235b) *6th Combine Asse Zellik 3,098b (6th 1,171b) *13th Combine Creil 1,759b (3rd 135b) * 75th Nat.NPO Peronne 12,211b (2nd 278b ~ 11th 2,302b)  ~ GB16V638 28th Combine Morlincourt 2,263b (4th 231b).
Lot 45. Blue Cock GB19V51718
Lot 46 Blue Pied Hen GB19V51810
Lot 47 Blue Pied Cock GB19V51811 
Lot 48. Blue Pied Hen GB19V51938
Direct from PETERS PIED the National and Combine winning cock with a full sister to PINK EYES!
  Lot 49 Blue Pied Hen GB19V51835
This is an absolute top class hen in every way. She has a perfect pedigree, she is perfect in the hand and her full sister was our best youngster in Holland this season winning 6th Ace Pigeon Combine Natour against more than 250 members!                                                                                                                                                                                                                               The very best and closest to the original Leo Heremans bloodlines available at the moment NIEUWE ROSSI & EENOOGSKE with a daughter of our top breeding pair Bandit and Moonglow!
Lot 50 Blue Checker Hen GB19V51763
This cock is an absolutely magnificent specimen and is as close as we can breed to MARIO (Now infertile) our top breeding son of DI CAPRIO.
Lot 51. Blue Checker Cock GB19V52005
Lot 52 Blue Hen GB19V51931
A direct son of TWO TWENTY bred the dam of GB17F06739 Young/Stenson *1st Taylors Arms Breeder Buyer 2017 by over 5 hours on the second day, only two in race time winning £11,000! A direct son bred WHU15T09053 raced by Phil Bates & Son *1st North Section Welsh S.E.National Maidstone 2015.Another direct son bred the Sire of 'Odd Bods' Syndicate *2nd 'Who Dares Wins' One Loft Race 2017 winning £10,500.
Lot 53.Blue Cock GB19V51912
This is a small to medium sized compact hen not only built but also bred to breed fast maturing 350 to 600 mile classic distance winners. The very best, Marathon lines, crossed with One Day Long Distance lines crossed with legendary Middle Distance lines. The best to the best!
Lot 54. Blue Checker Hen GB19V51719
This is an absolutely beautiful hen from a son of DRUM with a daughter of ATHENA!
Lot 55. Blue Checker w/f Hen GB19V51697
A really nice quality direct daughter of WITPEN MIKE and FOXY LADY! She is the nest mate to Lot 32.
Lot 56.Blue Hen GB19A49668
Direct daughter of AMADEUS with FOXY GIRL the top racing nest mate to FOXY LADY!
Lot 57 Blue Hen GB19V51991
Another top quality direct daughter of our top pair MAX and STARDUST.
Lot 58. Blue Hen GB19V51829
Another Grandson of THE YOUNG COUPLE this time with SUNDAY GIRL a daughter of HARRY!
Lot 59. Blue Cock GB19V51745
A high quality, great handling brown/golden eyed young cock the image of his famous father WAR DRUM. His mother is RHIANNON. Quite simply WHAT a bloodline! And what a stunning cock!!
Lot 60 Blue Checker Pied Cock GB19V51621
This is a stunning inbred daughter of PROPERE RIK one of our very best breeders at the moment.
Lot 61. Dark Pied Hen GB19V51804  
This is a direct son of BANDIT our great breeder.
Lot 62.Grizzle Cock GB19V51861
From BRUCE a direct son of NEW HARRY with daughter WAR DRUM!
Lot 63. Blue Checker Hen NL19-1755754