Martijn & Buck De Kruijf
Willem Tholenstraat (NL)
Martijn and Buck de Kruijf from Woerden in the Netherlands are proving a big hit in the UK with some outstanding results gained with birds purchased in this auction. (A Hawthorn 6 x 1st in first season). A small back garden set up with big performances. With only 20 feet of loft space, every inch is used to the maximum advantage to get the most from their race team. 24 pairs of old birds are raced on double widowhood and their team of 60 youngsters are darkened. Highlights of their career include "Olympic Stephanie" 14 x 1st prizes, 1st Asduif Vitesse/Midfond TBOTB, 1st Asduif Yearling in 2013 and 1st selection for the Netherlands in the Speed category at the Dortmund Olympiad.  2016 saw them win 1st Sector 2 Fontenay Sur-Eure 12,727 youngsters & fastest velocity in the Derby de Junioren de Nederland from no fewer than 47,214 youngsters and Superstar of the Year Short Distance the NL. In 2017 they won  no less than 24 x 1st Clubs, Superstar of the Year Netherlands Gouden Duif and 2nd place overall Gouden Duif Netherlands. 2018 highlights include 1st Afdeling 5 Rayon B 1,618 old birds, 1st Afdeling 5 1,517 youngsters & 10th Nat NPO Sector 5 Fontenay Sur-Eure 14,516 youngsters. *One of the lots from Blackpool 2018 was purchased by Gebr Dekker and bred 1st Nat Orleans in the very first nest. 1st Emperor Combine Zuid-Holland Oost dpt 5, 2019 delivered 1st Champion SD,1st Champion Sprint, 1st Champion LD, 1st Champion Autumn races, Combine Zuid-Holland Oost dpt 5 plus 2nd National and a huge number of Club and Provincial wins. There 2019 Star was Camal 1st General Asduif ZHO 19 winning 2nd NPO Vierzon 6177b.
Lot 1 NL19 1698072 CHEQ C "Super Speed" the same way bred as 15/111 2nd Ace Pipa Ranking winning 1st 557b, 1st 999b, 1st 580b, 2nd 996b, 6th 1298b, 15/112 1st 2050b, 16/802 1st 3672b, 1st 1293b, 1st 1867b, 3rd 2644b, 16/803 1st 1169, also gparents of Theodora 10th Nat Fontany 14,516b. Lots of different top class performers from this pair.
Lot 2 NL19 1784883 CHEQ C "Blackpool Mees" one of the best hens raced in Holland last year was Super Mees, Martijn & Buck offer a very special lot to the UK Fancy.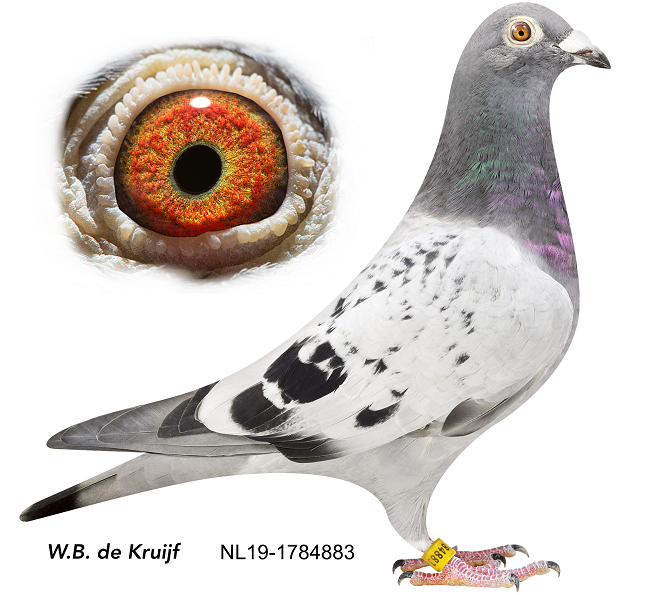 Lot 3 NL19 169188 BLUE H "Miss Mees" " a top quality lot direct from Olympiad Hen Super Mees.
Lot 5 NL2019 1784880 BLUE C "Mega Buck" A direct son of top breeder Den Argenton. This lot is the same way bred as "169" 1st P.S.Max 670b, 1st Fontenay 507b, 2nd Peronne 812b, 16/873 5 x 1st up to 850b 1st Ace Speed, 16/872 1st Arras 14,305b, 1st Duffel 473b, 1st PS Max 204b
Lot 6 NL19 1784884 CHEQ WF C A super cock, direct from champion breeding hen "101".
Abert & Francine Derwa
Herent (Be)
What a honor to welcome back one of the most ouystanding Belgium lofts of the last three decades & Francine Derwa. For three decades Albert & Francine have been at the very top of Belguim pigeon sport Albert and Francine have been at the top of Regional/Provincial and National results since the early 1990's. In 2018 their hens scored from the beginning to end of the season with rarely seen top results on the middle distance, they also won 4 x 1st provincial with 1st Prov. Blois 2,953 yearlings and 1st Nat. Argenton 3,322 old pigeons, both won by wonder pigeon "Irina" (daughter National winner "Invictus"). And the ultimate crowning achievement 2 Olympiad Candidates for Poznan 2019. 2019 has seena nother vintage season from this likeable couple. References in the lofts of others include 1st National Argenton 19,303 youngsters for Mathias Coel (bred by Albert and Francine) and the dam of Koen Minderhoud's triple NPO winner "Geeloger" was bred by Albert & Francine. 1st National Tulle 9,586 Yearlings and fastest from 17,035b for Ronny Menten was bred from a direc Derwa and Geert Noels was 1st National Tulle 5,117 Yearlings with a grandson of Primo, 1st Open Golden Classic Algarve OLR in 2019 also contained the blood of "Paulien" and "Primo" via Ronny Menten beating 3,522 youngsters that remained from an intake of 5,538b.
Lot 7 BE19 2039249 BLUE H "Herents Gold"
This lot is the same way bred as the amazing Invictus, 1st National Issoudon winner and breeder of Irina 1st Nat Argenton 2018.
Lot 8 BE19 2040752 BLUE H "Irina Queen"
a ½ sister to Irina, 3 x 1st and 2 x 2nd club plus 1st National Argenton OB 535km 3319b, 1st  Brabant Union Blois 444km 4222b, 2nd Brabant Union Le Mans 458km 233b, 7th Soissons 190km 1421b, 8th  National Chateauroux 506km 4631b.
Lot 9 BE19 2039023 BLUE C
A g-child of two iconic champions Invictus 1st National Issoudin 16,587b and Harry 2 x 1st NPO.
Lot 10 BE19 2039033 BLUE H
A beautiful g-child of the Golden Paulien.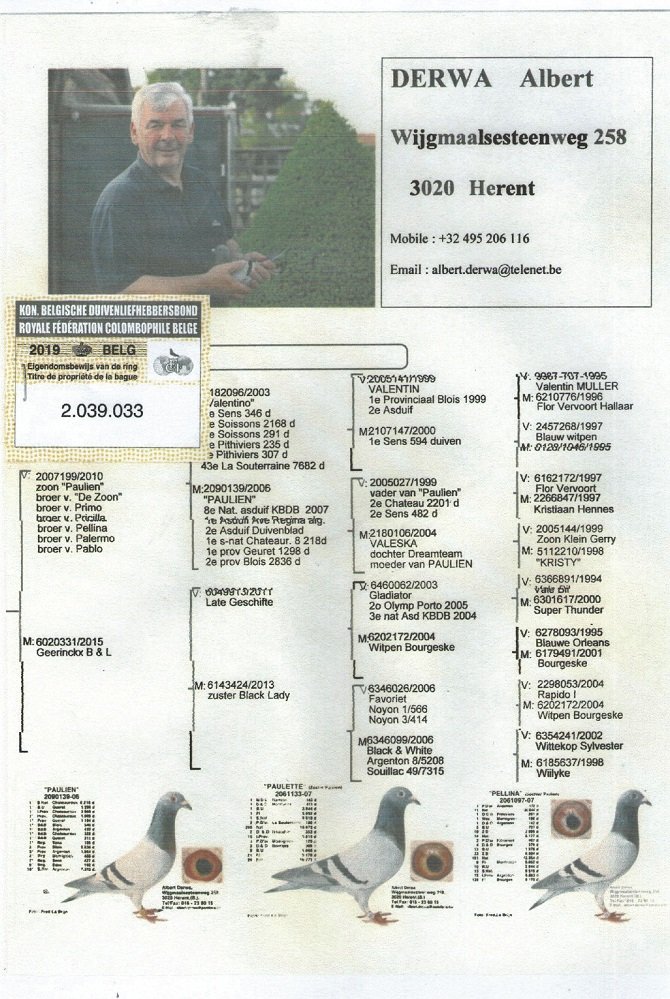 Willem De Bruijn
Oud-Reeuwijkseweg 15 (NL)
One of the leading fanciers in Europe, Willem De Bruijn, an incredible fancier with super pigeons. Every year since 1987 Willem has achieved results at the highest level in his own loft, again 2017 saw 9 first against thousands of pigeons and 5th, 10th, 12th and 14th National Ace Pigeons WHZB, 1st Vitesse-MidFond Duif PIPA Ranking and 1st MidFond pigeon in the National ranking "die Allerbeste". They also achieve success at the very highest level in other lofts, for example C.&.M. Everling (2 Olympiade pigeons), L.&H. Sioen (3 National winners), J. & L. Van de Pasch (in 2017 the 1st and 7th National Ace Pigeons Youngsters WHZB with two grandchildren of "Olympic Hurricane' and 3rd National Asduif Youngster WHZB with a grandchild of "Erica") and at Hans Boenders (1st Olympiad Pigeon Allround the Netherlands at the 2017 Brussels Olympiad), 2018 saw no fewer than 17 x 1st prizes and  highlights of 1st Pointoise 9,705 b (fastest liberation 26,668 b), 1st Asse-Zelik 3,914 b, 1st Pont St Max. 7,771 b (fastest liberation 18,381 b) 1st Fontenay 5,438 b (fastest liberation 14,516 b) etc. 1e Asduif Jaarlingen NL FCI-Ranking, 4e Nat. Asduif Midfond NPO, 6e Nat. Asduif Jong NPO, 1e Asduif Vitesse-Midfond NL, 4e en 6e Asduif Midfond NL etc.
*They also achieve success at the very highest level in other lofts, in 2019 alone saw Luc en Hilde Sioen with 1st National Limoges 9,578b, 1st National Argenton 15,235b
with "Cameron" a daughter of the direct Willem de Bruijn couple "Spidey" and "Marie Anne" (already parents of "Willemina" 1st National Poitiers 14,109 Yearlings and fastest from 26,486 b. Wijnand de Bruijn-Van Reet 1st National Chateauroux 22,476 youngsters and fastest from 33,056 birds. Herman Calon 1st & 3rd Ace Pigeon Vitesse Young NPO.*To note in the first ever De Duif UK Auction Willem sold a cock to a fancier from South Wales – Rob Pugh and the cock became the g-sire to Champion Heartbreaker, sold at his sale in Newport for £8500, one of the best National racing pigeons in Welsh history.
Lot 11 NL19 1788960 BLUE H "Murphy's Magic" a direct dtr of the magical Murphy's Law, one of Europe's top champions.
Lot 12 NL19 1788953 BLUE C "Jacobite" " A direct son of Willem's champion Jacob.
Lot 13 NL19 1788952 BLUE H "Speedy Girl" bred from Willems faster lines, a combination of Old line Heremans x Lambrecht/Van Den Bulck.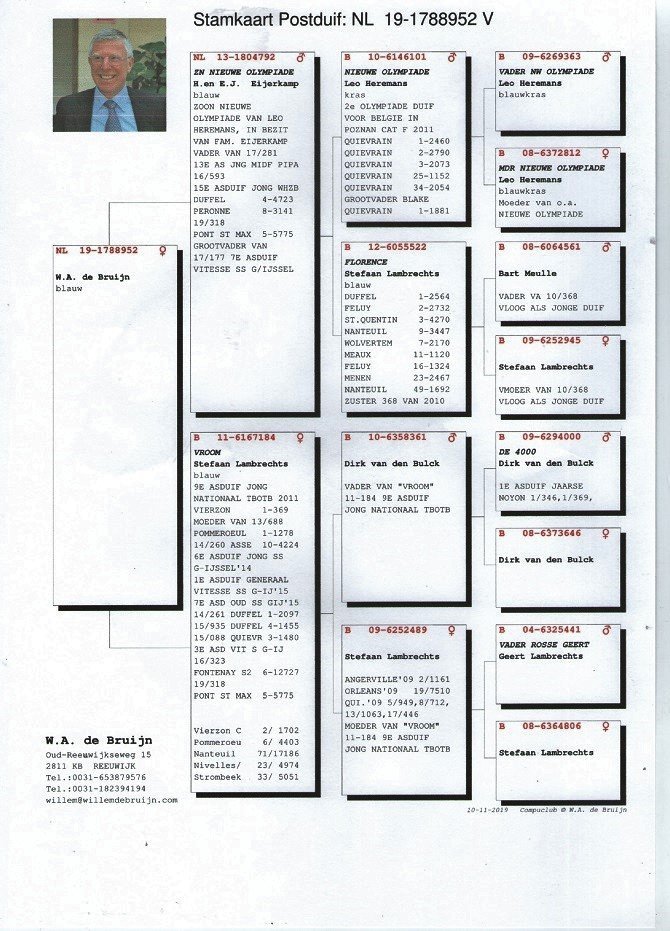 Lot 14 NL 19 1788922 BLUE C "Space Lad" ½ brother to 1st Ace WHZB YB's 2019.
Lot 15 NL19 1788916 BLUE H "Blue Jewel" full of winning lines, she is real class.
Lot 16 NL19 1788930 BLUE H "Simply Law"  a delightful ½ sister to the super Murphy's Law 1st Nat Ace Yearling FCI, 1st Nat Ace Yearling Pipa, he won 1st Pointoise 26,648 birds, he also won 3rd Fontenay 11,525b, 4th Peronne 2211b, 9th Duffel 4063b, 10th Sezanne 4719b,
W & F Ebben
Boven-Leeuwen (NL)
Every year the duif study results with aim of highlighting new and exciting fanciers, after a number of impressive years, flying top class reults with so few pigeons the team at De Duif approuched Falco Ebben and invited him into the UK Golden Duif 2020. Falco has kindly entered 6 hand selected lots from his very best. These are well suited to the UK, winning against massive birdage in National races. Will and Falco have a very small set up and keep just 20 old birds and 40 young birds each season. They are the perfect small loft with great results that all UK fanciers are looking to unearth. In Diablo they have a world class racer and breeder and his son Linus is the star of the new generation of champion. With 7 x 1st NPO victories for Will & Falco Ebben this move at the end of the young bird season has no negative effect on their future career. The family of pigeons was initially founded upon the cream of Ad Schaerlaeckens and anything brought in to try must take its chance in the Young Bird team before earning a move to the stock loft such is the level of quality housed.
Lot 17 NL19-1465712 BLUE H "Ebbens Delight" This top class hen is a direct dtr of super racer/breeder Diablo.
Lot 18 NL19 1465711 BLUE C "Ebbens Mighty Man" This top class cock is a direct son of super racer/breeder Diablo.
Lot 19 NL19 1465710 CHEQ WF C "Boven Boy" a direct son of champion racing cock "Linus" when paired to the super "Evolution"
Lot 20 NL19 1465709 CHEQ WF C "Boven Lad" a direct son of champion racing cock "Linus" when paired to the super "Evolution"
Lot 21 NL19 1465714 BLUE H "Flaco's Favourite" A top quality hen, she is sister to multiple winners.
Lot 22 NL19 1465713 BLUE C "Ebben's Gift" A top quality hen, she is sister to multiple winners.
Gerrard Koopman
Ermerveen (NL)
We are absolutly delighted to welcome Gerrard Koopman into our auction room this year. Throughout his whole life he worked, along with his father Cornelis, to build up his own pigeon strain. And he ultimately created a superior pigeon strain which has now proved itself all over the world for its exceptional capabilities. Always focusing on specail the specail quality of speed over distance his Favourate "Kleine Dirk" 1st Nat Troyes 17883b, 1st Nat Bourges 7155b, 1 st Maaseil 2668b 2nd, 3rd, 4th, 6th Upto 16306b. Kleine Dirk still dominates the Genes of many top champions. Gerard has offered two exceptional lots modelled in the genes and type of Kleine Dirk, one of the most influental pigeons in history.  One of the best descendents of Kleine Dirk is Jerson, the Olympiade Champion, Gerrard has presented a direct child and Inbred Gchild for the UK public. In 2019 Gerard & Co achieved with their usual panache a whole list of top results including o.a. 1-7-17-34-36-41-42-43-49-50-51e Nat. S4 Lorris 6,086 b., 3-8-19-37-43-44-45-46-50e
Nat. S4 Vierzon 3,092 b. and 8-11-16-17-18e Nat. S4 Chateaudun 4,511b. Also on the long distance programme Gerard is now among one of the strongest lofts in the whole of the Netherlands with in 2019 win 1st Nat. S4 Cahors 1,347 b. (over 2 hours clear), 1st & 2nd Nat. Sect. 4 Dax 646 b, 2nd Nat. S4 Orange 788b and provisionally 1st and 4th National Ace Pigeons Marathon WHZB-TBOTB..
Lot 23 NL19 1244753 CHEQ C "Kliene Champ" a direct son of the world famous Jerson, a top racer in the Koopman colony. This pigeon is sort the world over and is one of the Stars of Blackpool 2020.
Lot 24 NL19 1244813 CHEQ H "GERRARDS BEST" a super double grand dtr of super cock Jesrson..
Bart & Nance Van Oeckel
Vijverstraat 5, 3581 Beverlo, (B)
After a successful career including 1st National La Souterraine 3,607 b in 2006 and 1st National La Souterraine 3,526 b (fastest 20,124 b) with "F-16" in 2011, this ambitious and driven couple sold their race team at the end of 2014 and moved to their current location and built their dream lofts and home in 2015. After breeding a large young bird team in 2015 based around the three foundation stock cocks "Gaston Jnr", "Zwarte Diamant" (sire of F-16) and for the long distance "Crazy Boy" they were moved to the new race loft in April 2016 on its completion and they commenced racing at with a season highlight of 2nd National 11,972 b from Issoudun and have not stopped since. 1st National Limoges against 10,554 yearlings in 2017 and 1st National Chateauroux 4,641 yearlings (fastest from 24,783 b) show the quality of the pigeons housed in the Diamond Lofts. Highlights of 2019 in clude2nd, 16th, 22nd 26th National Chateauroux 19,529band 7th nat OB 2850b plus 6th Nat Valence 7974b, 10th Nat Issoudon 8234b etc.
Lot 25 B19 6063666 BLUE WF H "Miss World", a direct daughter of Number 1 breeder "Gaston Jr". A full brother to 17/266 1st National Chateauroux 24,783b, 130th Nat Argeton 19,859b, 179th Nat Bourges 8978b.
Lot 26  B19 6063509 CHEQ H "Sweet Lady" A beautiful direct dtr of James & Big F
Lot 27  B19 6063496 CHEQ H "Diament Boy" A super cock bird, will make a big impact in the UK.
Lot 28 B19 6063539 BLUE H "F-Lady" bred direct from a proven pair of breeders.
Lot 29 B19 6063499 CHEQ C "Fik" A super quality cock from proven heritage.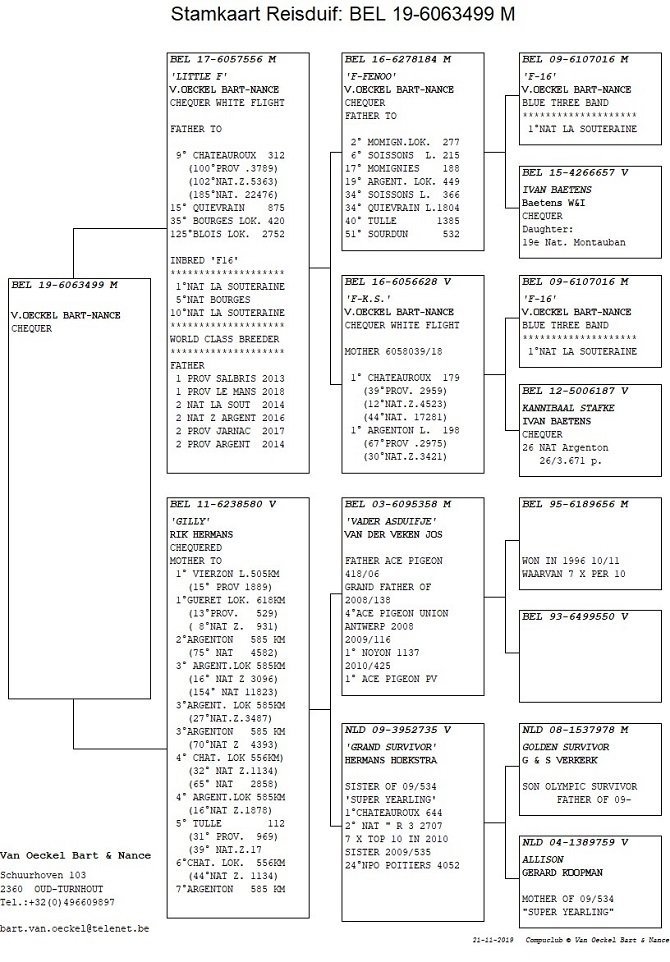 Lot 30 B19 6063517 BLUE H "3 Bars Lady" a super hen with 3 bars, real quality.
Jan Hooymans
Noordbeemdenweg 2 5331 LG Kerkdriel, (NL)
With descendants of his truly phenomenal breeding couple "Jong Bliksem" x "Dirkje" Jan Hooymans stormed to the top of the One Day distance scene in the Netherlands. His "Harry" family is world famous and achieving top results worldwide. With National victories during 2018 for both Jan's satellite lofts in the UK and the Netherlands it will be interesting to watch "Team Hooymans Belgium" located in Mol competing in the Belgian National races from 2019. In 2018 Team Hooymans at the home loft in Kerkdriel won 1st NPO Gien 4,581 b, 1st Prov Asse-Zellik 8,257 b, 1st NPO Chateaudun 1,974 b, 3rd, 4th, 5th Afdeling 7 Asse-Zellick 2,220 b, 5th NPO Niergnies 4,849 b etc. For many others world wide, the introduction of "Harry" blood has guaranteed success, in 2018 some examples are 1st Provincial Ace Pigeon One Day Long Distance (500-750km) Sector 1 for A. Beekman & Son of Middleburg, Crehan & O'Connor (Jan's UK satellite loft) achieved 1st National Flying Club Ancennis 5,160 b with a single entry, Christian Van de Wetering (Jan's Dutch satellite loft) achieved 1st National Sector 3 Niergnes against 14,422 youngsters and the following week 1st NPO Niergnes against 12,644 youngsters, John Crehan won the Golden Duif in 2018 and again this year in 2019 as Team Hooymans UK, Team Hooymans NL wins Golden Duif the Netherlands 2019! There is an endless list of references on other lofts as well in 2019 and some of the highlights are 1st S1 Chateauroux 7423 b., 1st Nat. S1 Argenton 9512 b. and Best Dagfondduif NL over 3 flights (all at J. & F. Hendriks), 1st Nat. S2 Pontoise 6517 b. (Grinwis- Van Alphen), 1st NPO Chateauroux 3243 b. (Rien & Diny van Oss), 1st NPO Pontoise 1551 b. (Hoffman-Regtop), 1st Prov. Morlincourt 23.392 b. (Fam. Eijerkamp), 1st Prov. Nanteuil 34.313 b. C. & M. Everling and 2nd Nat Ace Pigeon Grote Hafo KBDB for Rik Hermans. 1st Open MNFC (Crehan & Oconner), 1st Open NFC (Malik & Khan)
Lot 31 NL19 1023294 BLUE C "Double Harry" A super double g-son of the legendary Harry, a unique breeding cock for the future. one of the nicest hens I have seen at auction from Jan, a real beauty.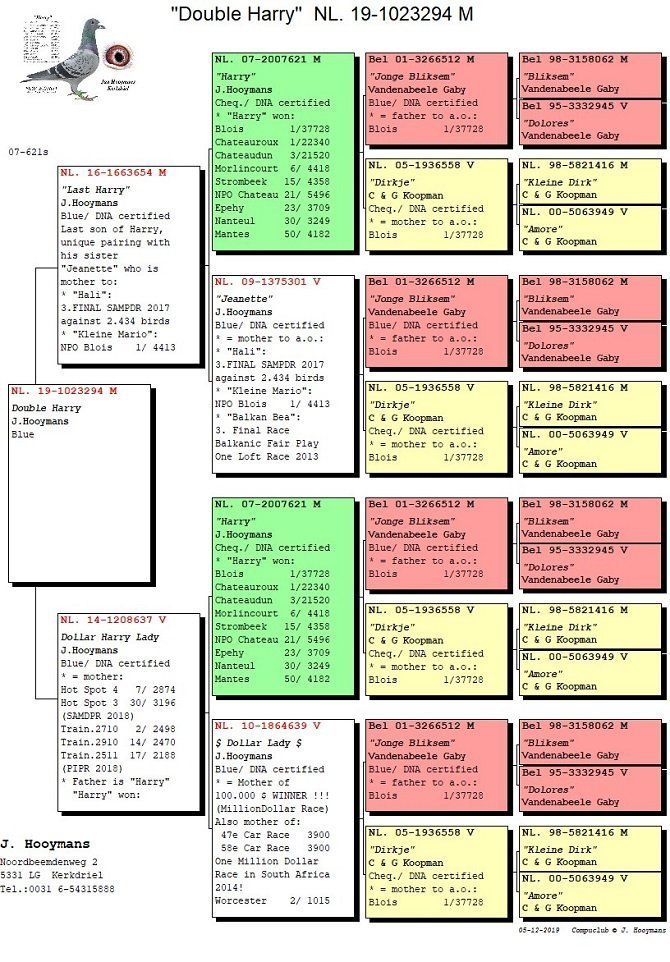 32 NL13 1394397 CHEQ H "Madam Harry" hand selected by Jan and bred from a full brother to Harry, so a gdtr of the Super Couple Jonge Bliksem & Dirkje.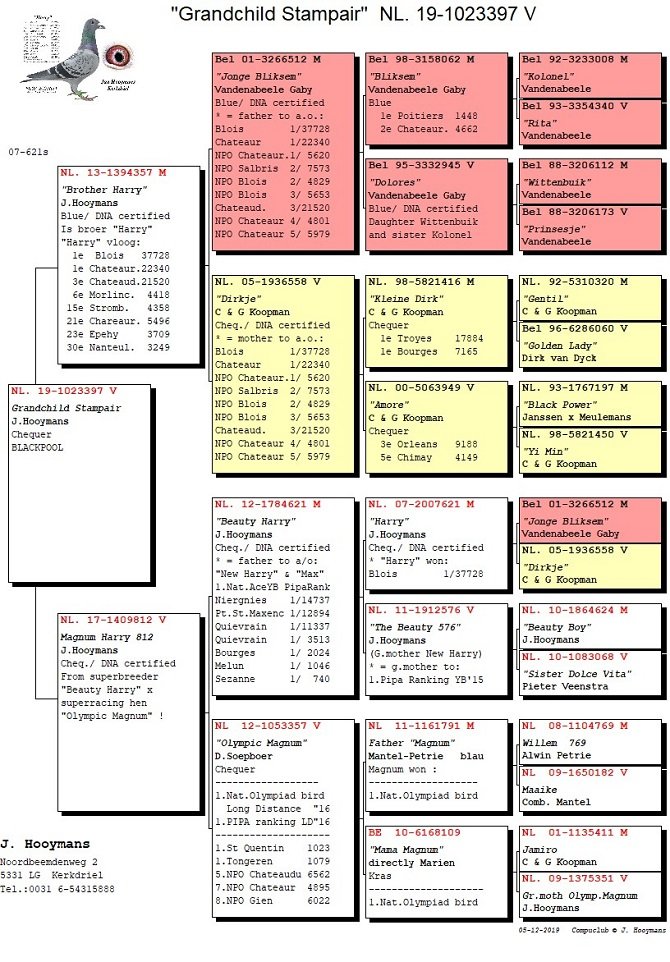 Lot 33 NL19 1023431 CHEQ C "Double New Harry" few pigeons have made such an impact in 2019 than New Harry, in the UK alone he is g-sire of 1St Open NFC Coutances YB (Malik & Khan) and 1st Open MNFC Carentan YB (J Crehen). Possibly one of the hottest lines on the planet at present.
**Each year the duif brings a small selection of distance pigeons to the UK, these always prove to be very popular, National and International races is on the rise in the UK, these lots will help you reach the pinicle of the sport.
Joost De Smyter
Meldon (B)
Joost De Smeyter-Restiaen is the number one extreme long distance fancier of Belgium. He achieves impressive raults each year, especially at Perpignan and Barcelona, the two major marathon races on the European Calender. He also has an equally impressive record from Pau, Agen and St Vincent, which are stepping races from the extreme distance, so all round there isn't a more durable strain.  These are truly an outsanding family based around Joost who won 1st International Bordeaux, his offspring have been instrumental in his success, with on of the main examples of this being "Cas" 1st Inetrnational Pau, a g-son of Joost. Recent references for others with the blood of " De Joost" include 1st Nat. Pau 2017, 1st Nat. Perpignan 2017, 1st Nat. Bourges 2017, 1st Nat. Argenton 2017, 1st Nat. Brive 2018 etc. We also find the blood of super breeder "Joost" in 1st Nat. Narbonne 3,829 d. 2019 at Batenburg-Van de Merwe bred from a daughter of "Persup", himself a son of "De Joost".International racing will become a key feature of the future racing program, many dream in the UK of winning such National and International races, these are the best lines available in Europe to help you realise that dream.
Lot 34 B19 4216588 DARK/WF C "Jonge Barca" one of the highest profile distance pigeons we have ever sold in the UK, a direct son of "De Cas".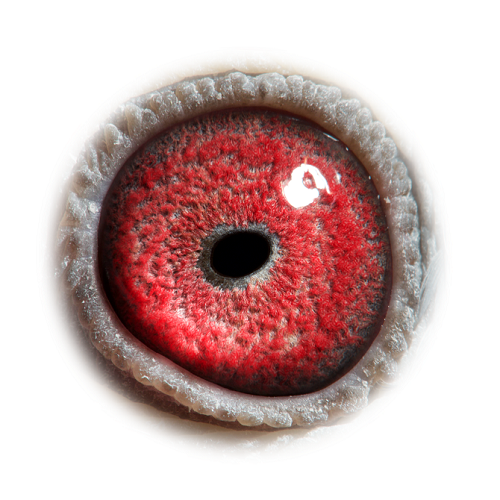 Lot 35 B19 4216534 DARK H "Pearls & Gems" A super bred gdtr of two famous International Winners.
Lot 36 B19 4216521 CHEQ H "Peggy Love" super long distance breeding from the best lines in Europe.
Lot 37 B19 4216504 DARK C "Young Cororibe" a full brother Corribe
Frank Zwiers
Terheijden (NL)
We welcome Frank Zwiers for his first ever Auction in the UK. Frank is a modern Marathon Flyer who has excelled in both One Day and Overnight Nationals in the Hotbed of the Netherlands. His birds excel on distance of 550 to 750 miles with incredible amount of top prizes in the biggest Dutch Marathon race in both the NPO and ZLU. Frank has entered 4 perfect quality lots from his very best marathon champions including Kratas 1st National Agen, Amber 1st National Dax and Le Bernard 1st Nat St Vincent. His pigeon are based on the traditional Dutch lines of Arjan Beens, Sam De Jong, R Moleveld (Brive Line), and Jelle Jellema. His pigeons are modern long distance potatypes and are expected to compete from 3 Long Distance Classic races per season from the Yearling stage. In 2019 Frank won 2nd National Perpignan, 3rd & 17th National Agen, 11th & 14th National St. Vincent ZLU and 5th Nat St Vincent ZLU – 6 x top 17 National/NPO results with a very small team of pigeons – from an entry of 57 pigeons to the International programme via the ZLU Frank had 6 x Top 25 National performances.
Lot 38 NL19 3919798 BLUE H "Marathon Gold" In this lot Frank has sent his very best, a hen that will truly light up Blackpool, direct from two National winners paired together.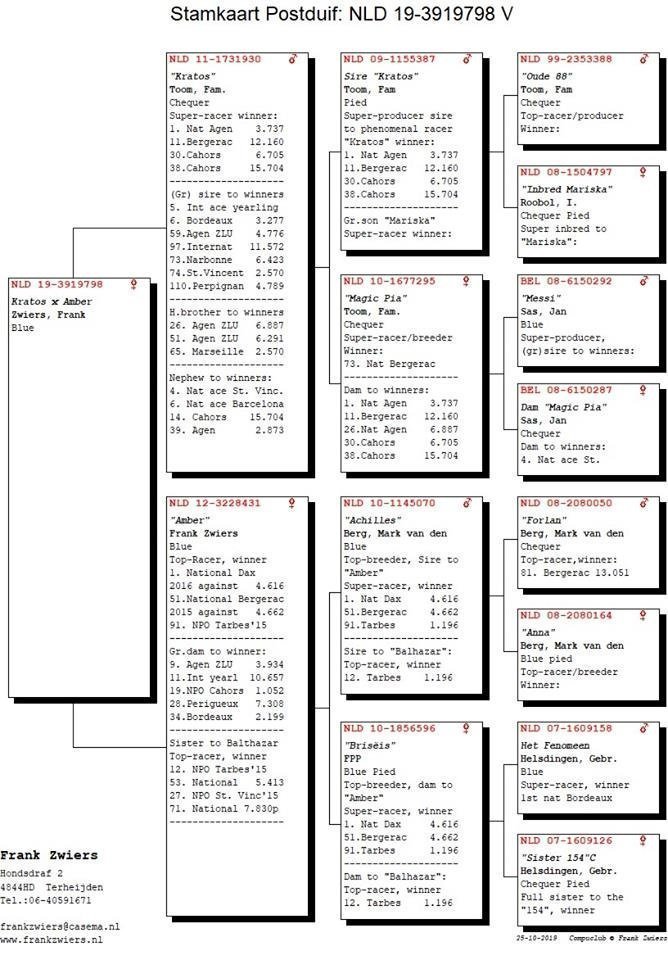 Lot 39 NL19 1754667 CHEQ WF C "Endurance Lad" what a top quality lot, direct from racing champion Le Bernard.
Lot 40 NL19 1754608 BLUE C "The Stayer" super top quality distance lines, just digest all of the results.
Lot 41 NL19 1754675 CHEQ "New Neo" the final lot is the same way bred as the famous "Neo" 4th Olympiad Ace Marathon Poznan, 5th Nat Ace WHZB Marathan, wiining 1st St Vincent, 4th Bergerac, 12th Dax, and brother Adonis Jerry 4th Best Ja Marathan Pipa. Lot 41 is the same way bred as 8th Nat St Vincent 5879b, 18th Nat St Vincent 6228b, 33rd Nat St Vincent 13000b, 17th Nat Agen 3940b, 32nd Int Agen 10657b, 24th NPO Bergerad 2664b, 27th NPO Bergerac 2366b, 27th NPO Bergearc 2726b, 31st Nat Agen 1928b, 41st Nat Perigueux 7275b, 45th NPO Dax 1266b
Bosmans-Leekens
Vijverstraat 5, 3581 Beverlo, (B)
When Marc Bosmans and Dirk Leekens joined forces in 2012 they dare not dream they could achieve this level of success so quickly! In 2016 Marc and Dirk had a fantastic season with highlights including 1st Prov Chalons 1,369b, 1st Prov Chateauroux 2,630b, 1st Prov Sezanne 2,956b and Olympiade Pigeon all round Brussels 17. 2017 1st Prov. Chevrainvilliers 4,955b. /fastest 8,308b, 1st Prov Chateauroux 1,892b fastest 3,251b, 1st Prov. Chevrainvilliers 3,563b., 1st Prov. and 1st Zone Libourne 676b, 1st Prov. Argenton 2,554b. / fastest 4,312b and the "icing on the cake" 1st Prov. and 1st Nat. Argenton 7,643b. 2018 saw another successful season with highlights such as 1st Prov. 1st National Zone and 2nd Open National Limoges 15,789 old birds (beaten by 1 second), 1st Prov. Brive 301 yearlings, 1st Prov. Gueret 557 yearlings, 1st Provincial Limoges 355 yearlings and 1st Provincial Bergerac 189 yearlings, add to this 8 x 2nd Provincial, 2 x 3rd Provincial and 3 x 4th Provincial victories and no fewer than 43 x 1st Prizes without duplications. Without doubt the best performance loft in the Province of Limburg!  Their pigeons perform elsewhere as proven by a.o. Jimmy Cardinaels (1st Prov. Asduif Jong 2015 and 7th Nat Asduif Grote Hafo Jaarse KBDB 2017 with a 100% Marc and Dirk pigeon) and Rego Daan (1st Prov Sezanne 13,277 b from "Zus Nena" and 2nd Prov. / 5th Nat. Bourges 19,899 b from "Broer Nena"! in 2019 they continued on the same momentum with a fantastic season on the long distance with 1st Prov. Tulle 844d., 1st Prov. Cahors 711 d. (1st Nat. Zone 1819 b.), 1st Prov. Souillac 422 b., 1st Interprov. CFW Chateauroux 3026 youngsters, 1st Prov. / 10th Nat. Ace Pigeon Fond Yearlings KBDB, 1st Prov. / 8th Nat. Ace pigeon fond old KBDB, 1st Prov./ 2nd Nat. Champion Long Distance Old KBDB and a whole host of top prizes and team results at Provincial and National level  from 180 to 500 miles.
Lot 42 B19 5037308 GRIZZLE H "Grey Harriet" A top quality hen from the super Harryet.
Lot 43 B19 5037253 DARK WF C "Dark Lord" A beautifaul direct son of Triple 028 and ½ brother to Chatty 1st Prov Chateauroux 2630b.
Lot 44 B19 5037252 CHEQ H "Triple Queen" Another top class hen, full of quality.
Lot 45 B19 5037272 GRIZZLE C "Ghost Raider" a absolute star, top quality.
Lot 46 B19 5037199 GRIZZLE H "Lady Luke II" make no mistake this hen is as important as any in the sale, an original gdtr of Olympic Triple Ace and Lucky Luke.
Lot 47 B19 5037383 GRIZZLE C "Lucky 383" one of Dirk's favorite lots, a top quality cock
Rik Hermans
Kloosterstraat 9, 2243 Pulle (B)
Since the move to Belgium Rik has rocketed to the top. 2016 saw Rik, achieve his "Hat Trick" of National victories with 1st National Bourges 28,078 youngsters to follow 1st Nat. Bourges 24,676 old b in 2011 with Cowgirl and 1st Nat. Chateauroux 25,710 yearlings in 2015. 2017 again saw Rik achieve top results such as 1-2-3rd Zone Chateauroux / 3-4-5th Nat. 14,955 yearlings and a traditionally strong result from Bourges: 40th Nat 8,348 old…. 16-69-103-128th Nat. Yearlings and 84th and 309th Nat against 38,456 youngsters. Main achievements in 2018 included 2nd Prov. Bourges 3,201 yearlings (4 sec behind winner) and 14th NAT. Champion Youngsters Large Middle DIstance KBDB. The stand out pigeon of the season was the young cock "Chucky" (grandson of "Propere" x "Athena"), 2nd Provincial Ace Middle Distance and 4th Nat. Ace pigeon KBDB Large Middle distance youngsters with 13 prizes from 14 races including 6 x 1:100 and 1st Melun 1,561b! Again the references at others keep coming, Peter Fox (1st Ace Pigeon Golden Algarve & auto winner with 50% Hermans, line of "Athena" & "Propere"). Ist ISRF Penzance for Bermingham and O'neill bred by Gregg Bros & McCandless from a direct Rik Hermans hen and who could not be aware of "James's Legend" Ace Pigeon Pioneer Club and sold for a world record price of €2.78 million bred direct from "Nestzuster Nike" brought at the Gouden Duif auction, 2019 saw Rik achieve his fourth outright National Victory from Issoudun against 11,468 Yearlings (fastest from 19,746 pigeons) with "Chucky" to complement 1st National Bourges 28,078 youngsters with Nike, 1st Nat. Bourges 24,676 old birds in 2011 with Cowgirl and 1st Nat. Chateauroux 25,710 yearlings in 2015 with Friendship. The Standout pigeon in the 2019 team was the super half sister to "Friendship", "Friendly" 2nd National Asduif KBDB Grote Hafo and a winner of 24th National Chateauroux 22,476 b, 59th National Bourges 28,319b, 11th Prov 3,392 & 117th National Argenton 23,258 b, 7th Chevrainvilliers 1,871 b etc.
Lot 48 B B19 6109420 "Belgium's Best" As custodian of the Duif its tradition for Rik to present a signature lot to define the quality of the auction, Lot 48 is world class, a direct child Champion Nike 1st National Bourges 28,708b. Brother to 73rd National Chateauroux 24,592b Ja 2019.
Lot 49 B19 6109412 CHEQ C "Premier Mix" so named as he contains the blood of two of Rik's premier champion hens, Minerva and Charlene.
Lot 50 B19 6109449 BLUE WF H "Beauty Behold" as high quality a lot that could be offered anywhere across the globe, this is one of the finest lots ever offered in the UK.
Lot 51 B19 6109425 CHEQ H "Bright Promise" This hen is a full sister to 1st Zone 4398b, 3rd Nat Chateauroux 14,955b, 30th Nat Bourges 28078b, 135th Nat Chateauroux 14,762b, 200th Nat Argenton 22,712b.