This week we decided not to send the youngsters in the club due to the virus affecting the young birds sweeping the area. We will review the position during the week to decide if we will send next week. At the moment we have a strong team and they are our future old birds so we think it pays to be careful.
We did however send 10 hens (nine yearlings and one two year old) to Niergnies the second Natour race of the season and was happy to have all ten in the result at Provincial level against more than thirteen thousand birds.
Club 312 birds…5th,7th,22nd,25th
Union de Baronie 2757 birds… 13th,32nd,80th,93rd
Provincial 13,325 birds…95th,181st..
Our first bird was NL20-1581129  winner of 13th Combine against 2757 birds and won 7th Combine Quievrain last week against 2842 birds and a previous winner of 11th Combine Quievrain 4362 birds…bred from SKY a son of Special One x Tess with a daughter of Blue Fox (Brother Foxy Lady) x Venus (Daughter War Drum).
Our second arrival was NL20-1581151 winner of 32nd Combine 2757 birds, 95th Provincial 13,325 birds a previous winner of 1st Chadeaudun 131 birds…10th Federation 1333 birds…56th National NPO 6277 birds and 2nd Melun 115 birds, 33rd Combine 1102 birds.
She was bred from CESAR a winner of 6 x 1st clubs for us when he was paired with a daughter of ZAPATA (Son Bandit x Moonglow) paired with our top breeding hen SISTER SPHINX. This is hen was bred by Rik Hermans and a top breeding hen for us and many others with her  offspring into the third and fourth generation. She is grandmother to our first two arrivals this week with two different mates!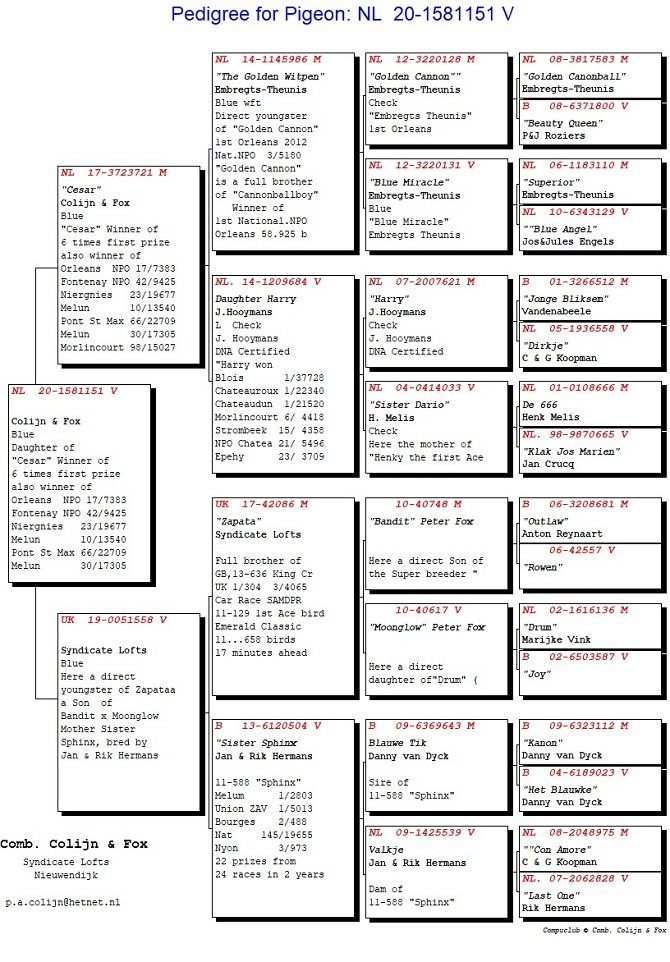 This weeks winner of 32nd Combine Niergnies 2757 birds.