Willem De Bruijn
Oud-Reeuwijkseweg 15 (NL)
One of the leading fanciers in Europe, Willem De Bruijn, an incredible fancier with super pigeons. Every year since 1987 Willem has achieved results at the highest level in his own loft, 2021 saw highlights such as 1st, 9th, 10th etc Peronne 5,075 b (fastest 40,438 b), 5th, 6th 10th etc Quievrain 5,981 b, 9th, 10th,11th etc Pontoise 5,203 b, 8th, 9th, 13th etc Duffel 4,696 b, 3rd, 4th, 5th, 6th, 7th, 8th, 9th, 10th, 11th, 12th etc Lennik 4,239 b, 3rd, 6th, 38th, 39th Fontenay 12,591 b, 3rd, 4th, 8th, 10th, 12th, 13th etc. Fontenay 2,611 b and 1st National Ace Pigeon Youngsters de Fondpiegel 2021. As well as winning for Willem his pigeons win at the highest level as referenced in Cameron of Luc & Hilde Sioen and the 6th National Tulle 4,451 Old Birds and the 12th National Ace Pigeon Youngsters KBDB 2021 for Rik Hermans were direct from Willem.
Lot 1 NL21 1194091 BLUE C "James the Great" to start the sale we have a brother to "Super James" 1st Afd 5 Neirgnies 11504b 2nd Afd 5 Peronne 13510b, 37th Afd 5 Pont St Max 33,687b, also ½ bro 21/811 1st As Jo Afd 5 3rd Pont S Max 7507b, 4th Issuedun 9756b 7th Fontenay 11526b, 13th Sezanne 9701b, 13th Blois 5964b, 20/448 6th Afd 5 Duffel 11754b and 20/208 8th Peronne 4470b
Lot 2 NL21 1193841 CHEQ C "Murphy Man" one of the stars of the Blackpool Weekend, a direct son of Murphy's Law. Offspring from Murphy's Law are in massive demand across the globe
Lot 3 NL21 1193926 BLUE C "1/2 Pint Murphy" a super ½ brother to the exceptional Murphy's Law 1st Nat Ace Yearling FCI, 1st Nat Ace Yearling Pipa, he won 1st Pointoise 26,648 birds, he also won 3rd Fontenay 11,525b, 4th Peronne 2211b, 9th Duffel 4063b, 10th Sezanne 4719b,
Lot 4 NL21 1194200 BLUE/WF C a direct son of the Champion Hen "Tineke" 1st Afd 5 Peronne 19278b, and a leading breeding hen
Lot 5 NL21 1193921 CHEQ C a direct son of Anastasia and ½ brother to "Secretariat" 1st Ace National Jonge WHZB, 2 nd National Ace Jonge PIPA, 1 st Ace Jonge SS and 2 nd Ace Afdeling 5 RO, he won 13th Lennik 3,923b, 13th Peronne 3,005b, 20th Fontenay 3,920b, 37th Pont St Max 5,775b, 68th Pointoise 6,621b
Lot 6 NL21 1751353 CHEQ C a class full brother of Willems new top stock breeder "Uranus" winner of 3rd Fontenay 4369b, 6th St Quievrain 4237b, 8th Asse 4481b, 17th P.St Max 2672b, 2nd Nat Ace NPO Jo, 2nd Nat Asduif Pipa Jo, 3rd Nat Ace WHZB and Olympic Duif. Uranus is also sire of "Secretariat" 1st Ace National Jonge WHZB, 2 nd National Ace Jonge PIPA, 1 st Ace Jonge SS and 2 nd Ace Afdeling 5 RO, he won 13th Lennik 3,923b, 13th Peronne 3,005b, 20th Fontenay 3,920b, 37th Pont St Max 5,775b, 68th Pointoise 6,621b
G & S Verkerk
55a Nieuwdorperweg (NL)
We welcome Gerrard & Bas Verkerk to the UK for their first ever Blackpool Auction with the Duif. In 2020 they were crowned Gouden Duif Champions of the Nederlands, another in a long list of Olympic and Ace Pigeon Titles. In 2021, their most notable achievement was without a doubt 1-2-4-11th Interprov. Brive (803 km) 2,687b with 1st and 2nd nominated in front! Other great results include 1st Nat. S2 Vierzon 11,257 b., 4th NPO Salbris 17,448 b., 2nd and 10th NPO Issoudun 10,850 b., 3-9-13-17-21-24th NPO Chateauroux 6,068 b. (4-10-13-17-20-25th Nat. S2 7,962 b.), 5th and 6th NPO Fontenay 2,611 youngsters, 2nd 3rd 4th 6th 9th 10th 11th 12th 13th 14th and 15th Morlincourt 9,559b etc. **References on other lofts include amonst others; Reedijk-Jongekrijg (1st NPO Nanteuil 12,002 b. 2021), W&F Ebben (1st Prov. Melun 7,291b. 2021), Ruud Bakker (1st NPO Vierzon 4,388b. 2021), Aalderink Pigeons (1st NPO Salbris 4,671b.), Derksen-Van de Keuken (1st Olympiad Pigeon Middle Distance 20-2021, 1st NPO Sermaises 6,702b.), Michael Schmell (1st Internat. Narbonne 13,693 Ja + fastest 28,814 b. 2021) etc. Bas has selected 4 very strong lots to present to the UK fancy.
Lot 7 NL21 1194856 CHEQ C "Fire Boy" a direct son of Olympic Fire Eyes when paired to Delerium, again an absolute star for Blckpool. A ½ brother to 17/592, dam of Triple Bas 1st Nat Gueret 12888b, Olcay 1st Laon 8578b, Lisa 1st Issuodun 4310b (2nd NPO 10850b and Mermaid (see dam).
Lot 8 NL21 1194780 BLUE H "Solange Lady" a top quality direct dtr of "Solange Playboy" winner of 1st NPO Vierzon 9031b
Lot 9 NL21 1194703 BLUE H "Special Wonder" A direct child to the super racing hen Flying Wonder, they get no better.
Lot 10 NL21 1194826 CHEQ C "Blackpool Joe" A top class son of "Olympic Valerie" Olympiad Ace LD Pigeon Budapest and 1st NPO Ruffec 3506b
W & F Ebben
Boven-Leeuwen (NL)
Uncle and nephew Will and Falco race an old bird team of 12 pairs on total widowhood and race a tiny team of youngsters at the home of Will and the rest of the youngsters at the home of Falco as Comb. Ebben, the very best youngsters are then resettled at the end of the season to the old bird racing loft approximately 1 km away. The 2021 season saw highlights such as 1st Provincial Melun 7,291 b, 5,348 b, 16th, 34th, 45th, NPO Chalons en Champagne 12,753 b at the loft of W & F Ebben and 1st, 2nd etc. Morlincourt Provincial 6,385 b, 1st, 8th, 23rd Sens 1,053 b, 3rd, 5th, 10th NPO Chalons en Champagne 6,758 b For other lofts 2021 successes include 3rd National Ace Youngsters NPO for Bart and Thijs Hoogeveen, 9th National Ace Youngster NPO for Peter Crans. 1st Quievrain 8,275 b and 1st Duffel 13,249 b for Frans Stikker etc.
Lot 11 NL21 1004686 CHEQ C "Super Boy" a direct son of champion racing cock "Linus" when paired to the super "Katja" one of the best breeding hens in Holland
Lot 12 NL21 1004692 BLUE C "Maximus" Superbly bred young cock from super breeding champion Mad Max.
Lot 13 NL21 1004696 BLUE C a direct son of super breeding hen Hadenna, dam and gdam of 5 x 1st NPO, AFD and Rayon upto 13404b.
Lot 14 NL21 1004776 BLUE C a direct son of super breeder Icuras
Bosmans-Leekens
Vijverstraat 5, 3581 Beverlo, (B)
The Bosmans-Leekens tandem have grown in a short space of time to one of the most eye-catching lofts in the whole of Belgium. Some highlights are 1st Nat Chateauroux 5,884 Yearlings 2014, 1st Nat. Argenton 8,006 Old Birds 2017 and 2nd Olympiad Pigeon All Round Brussels 2017. The 2020 season was a season to remember for Marc and Dirk with 1st National Gueret 12.888 Yearlings and 1st National Chateauroux 15,322 Youngsters they joined the select group of toppers who managed to achieve two National victories in a single season.  In 2021 Marc and Dirk raced the tiles off the roof again with, among other things, 33 x first prizes. 5x 1st Groot Gewest, 30 x top 10 Provincial with 1st Prov. Limoges 1,105 b. and 4 x 2nd provincial. Highlights of the National programme included 3rd Nat. Bourges 18,710 youngsters and 9th Nat. Limoges 15,545 d. and that in addition to results as 1-2-3-4-5-6th Vervins 1,974 b., 1-2-4-5-6-7th Vervins 3,875 b., 1-1st fastest Soissons 3,523 b. etc.
Lot 15 B21 5050084 BLUE C "Trump Card" direct son of one of the best breeding pairs in Belgium today, the new super Pair "Sire OT x Triple 029. Lot 16 is a full brother to "OT" 1st National Chateauroux 15322b, "OJ" 6th National Argenton 22380b, "Super 73", 1st 3523b, 1st 1315b, 1st 704b, 17th 3845b, 1st 141b, 3rd 1750b, 16th National Argenton 9847b, Olympiade Candidate Ja, "Black 74" 3rd 1080b, 8th 2191b, 27th 1584b, 92nd National Bourges 11952b Luci 14th Nat Ace KBDB, 1st IProv Chateauroux 3026b, 1st Melun 237b, 31st National La Souterraine 15939b, 131st National Chateauroux 33833b.
Lot 16 B21 5049896 BLUE/WF H "Witpen Gold" a sublime direct dtr of Champions Triple Bas 1st National Gueret 12888b x OT 1st National Chateauroux 15322b.
Lot 17 B21 5050051 DARK H "Dark Charm" A super quality direct daughter of "Olympic Triple Nena", they come no better. Triple Nena is dam of amongst other prizes 1st Vervins 3875b, 1st Soissons 424b, 3rd National Bourges 18710b, etc
Lot 18 B21 5050083 BLUE H "Beverlo Girl" a super dtr of Silva, top racing hen and inbred Olympic Triple Ace.
Lot 19 B21 5050138 GRIZZLE H "Grey Days" a ½ sister to Vanessa 1st Argenton 4470b
The Koopman pigeon has for decades been world famous and respected for power and quality, achieving top results at home and abroad at the highest level. In 2021 3rd National Champion Marathon NPO, again among the very best with a rarely seen dominance such as: 1-2-4-5-8-10-12-18-24-26-27th NPO Sens 4,995 b. (with 20 minutes lead), 2-4-6-7-8-14-16-19-22-24-28-29-30th NPO Sourdun 5,502 b., 2-3-5-6-7th NPO Issoudun 2,082 b. and 1-2-6-7-8-10-11-12-13-14-16-17-22-26th Nat. S4 Lorris 3,455 b. and 5th and 9th Nat. Ace Pigeon One Day Long Distance NPO 2021.
Lot 20 NL21 1504930 CHEQ C "Ermerveen Gold" A superb direct child of Thaisa. A ½ brother to 1st Duffel 2356b, 2nd NPO Issoudun 2082b, 7th NPO Issoudun, and 5th Nat Ace WHZB 2021.
Lot 21 NL21 1504740 DARK C "Dark Dirk" a super direct son of Calisto, top racer and breeder.
Lot 22 NL21 1504889 CHEQ H "Royal Lady" a direct daughter of Wandie 1st Souppes-S 3607b
Lot 23 NL21 1504844 CHEQ H " JAVET" A super dtr of Jazmin, 3 x top 10 NPO.
Martijn & Buck De Kruijf
Willem Tholenstraat (NL)
The partnership of Martijn and Buck de Kruijf from Woerden in the Netherlands are a small back garden set up with big performances. Recent highlights of their career include 1st Sector 2 Fontenay sur-Eure 12,727 youngsters & fastest velocity in the Derby de Junioren de Nederland from no fewer than 47,214 youngsters and Superstar of the Year Short Distance the NL in 2016. The 2017 season saw 1st Ace Pigeon Yearlings NPO Competition de Allerbeste, 1st Ace Pigeon Young NPO competition De Allerbeste and no less than 24 x 1st Clubs, Superstar of the Year Netherlands Gouden Duif and 2nd place overall Gouden Duif Netherlands. 2020 saw Special Seven Twenty win the title of 1st National Ace Youngster WHZB, For the few that have been brought into the UK they are making a huge impact with the Ace Youngster in the WDA in both 2019 & 2020 for Alfie Hawthorn and "Buck Rogers" winning 3rd NFC 3,939 b and 5th NFC 5,738 b from Sennen Cove in 2021 for Stuart Wilcox.
Lot 24 NL21 1222425 BLUE H "ACE of ACES" a direct dtr of "Specail Seven Twenty" 1st National Ace Jo WHZB 2020 (All Holland) also 6th National Ace NPO and 3rd Afd 5 Ace YB's (20000b).
Lot 25 NL21 1222681 BLUE H "Blue Lady" One of the stars of the sale, a full sister to Bleu Sabine 1st Niergnies 3283b, 2nd Quievrian 2173b, 6th Lennik 2256b & 6th Nat Ace, The Twenty Nine 2nd Afd 5 Peronne 20115b, Tabitha NPO Fontaney 19100b. Also "El Salvador" winner of 9 x 1st and 1st National Speed Pigeon NPO, he won 1st Peronne 2529b, 1st Asse 2029b, 1st Duffel 1104b, 1st Peronne 941b, 1st Roye 694b, also 3rd NPO Fontenay 12,304b and 18th NPO Fontenay 12,727b, also 4th Duffel 2314b, 2nd Arras 1135b etc A true champion.
Lot 26 NL21 1222795 BLUE C "Taby Man" a direct son of super racer Tabitha.
Lot 27 NL21 1222703 CHEQ H "Young Camel" a super direct son of super racers Camel and Oylmpic Super Mees, bred especially for the Golden Duif.
Lot 28 NL21 1222769 CHEQ H "Nikey 101" a direct son of De 101, this hen is gdam of 2 x 1st WDA Ace YB and gdam N Templer 3rd WoESRC 2452b and many other results.
Lot 29 NL21 1222749 CHEQ/P H "Den Finny" A direct child of the super racer breeder Den Argenton. ½ sister to  "169" 1st P.S.Max 670b, 1st Fontenay 507b, 2nd Peronne 812b, 16/873 5 x 1st upto 850b 1st Ace Speed, 16/872 1st Arras 14,305b, 1st Duffel 473b, 1st PS Max 204b and and Camel 2nd NPO Vierzon 6177b etc.
Bart & Nance Van Oeckel
Schuurhoven 103 2360 Oud-Turnhout (BE)This ambitious couples plamares includes 5 x 1st National and several OIympiad Pigeons. 2021 saw them National Champions Fond Yearlings KBDB 2021, 7th National Championships General KBDB, the 2nd, 4th, 5th & 6th National Ace Pigeons Long Distance Yearlings KBDB, 3rd National Ace Pigeon All Round Old/Yearlings KBDB. The absolute high point of the National season was Souillac with ten pigeons in the first 20 National including 4th, 5th, 7th, 8th, 9th, 18th, 19th etc. National 4,574 Yearlings and 8th, 10th, 11th, 23rd, 59th National 4,144 Old Birds, etc.
Lot 30 B20 6154648 BLUE C "Super Hao Hao" a direct son of super breeder F-Hao-Hao
Lot 31 B21 6087638 BLUE H "F-38" a super direct child of top National racer F-Chateauroux.
Lot 32 B21 6087645 CHEQ C "De Raket" a superb child of De Raketman, super breeder.
Lot 33 B21 6987656 BLUE H "Steffy" direct child of "F-Stef" top breeder and son of F-16.
Lot 34 B21 6087576 BLUE H "Speedy" a super lot and one for the 200 mile races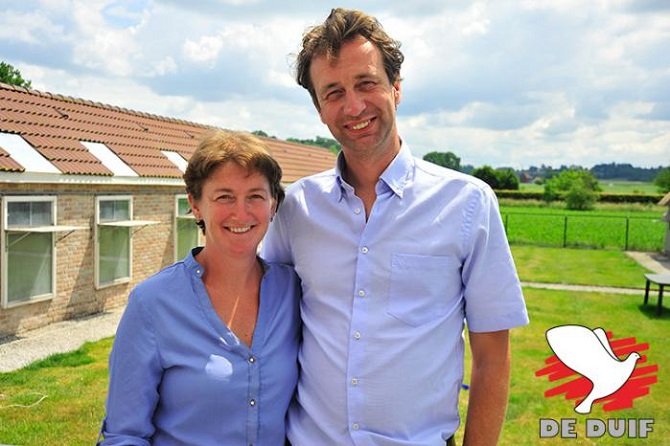 Joost De Smeyter-Restiaen Melden (B)
Joost De Smeyter-Restiaen is the number one marathon fancier of Belgium. The initial breakthrough came with the magical "De Joost" 1st Nat. 3,934b and 1st Internat. 4,534 Yearlings from Perpignan, 21st Nat. St Vincent 5,101 Yearlings and 1st Ace Pigeon Long Distance WEC, he developed into an absolute goldmine producer. This was followed 1st Internat. Bordeaux Yearlings in 2006 with "Grand Cru",1st National Ace Pigeon Extreme Long Distance in 2011 with "Peggy" and in 2013 with "Elsie", 1st Nat. Pau 1,980 b, 1st Internat. Pau 9,052 b with "Cas" in 2015. 1st Internat. 4,787 Hens and 2nd Internat. overall against 15,707 b with "Floorke" followed 21 days later with 1st Nat. 3,500 b and 1st Internat. 9,154 old birds from Narbonne in 2018 with "Celsius". In 2021 Joost was once again on the highest level of the podium. 1st Nat. St. Vincent with a big lead (almost 15 minutes) alongside 13-35-45th against 3,080 Old Birds! Joost also won 11th Nat. Pau, 19-58-60-96-109-111-113th Nat. Barcelona etc..Dam of 1st National Asduif KBDB Grote Fond for Yvan Eeckout 8th National Barcelona and 6th National Perpignan was bred by Joost.
Lot 35 B20 4220260 CHEQ C "Perpy" a fully moulted out LB from 2020, a direct son of "Perpinnius"
Lot 36 B 20 4220225 BLUE H "Floory" again a superb quality hen, fully moulted and ready to breed LB from 2020, direct from Scarface.
Lot 37 B20 4145827 CHEQ H "Sizzling 327" a super bred LB from 2020, superbly bred.
Lot 38 B20 4228289 CHEQ C "Casy" a superb gson from Cas, again fully ready to pair, a late bred from 2020
Frank Zwiers
Terheijden (NL)
One of the leading marathon fanciers in the Netherlands from the National and International Marathon flights.
2020 highlights were 8th International Narbonne ZLU 8,492 b, 10th International Narbonne ZLU 12,848 b, 14th
National Agen ZLU 5,480 b, 23rd & 30th National Narbonne ZLU 6,725 b etc.  2021 highlights include 4th National Agen ZLU 6,804 Yearlings, 14th International 14,173 Yearlings, 65th National Agen ZLU 6,896 Old Birds 9th National Marseille ZLU 4,310 b, 78th International 10,830 b, 92nd National ZLU Barcelona 4,838 b, 1st Brabant 2000, 34thNational ZLU Perpignan 4,865 b, 42nd International 13,275b etc. The Zwiers pigeons have achieved the following top results for other fanciers in 2021 4th NPO Limoges  for Auke Rekker, 6th NPO Perigeux Jochemson & Zn, 11th NPO Limoges Jos Meijer, 15th, 16th, 21st NPO Perigeux Peter Struik, 22nd Nat Perigeux Gerard Kok, 24th National Pau ZLU Willem TIelemans 25th Nat Bressols Auke Rekker etc.
Lot 39 NL 21-1274230  CHEQ H "Bernando" a direct child of Frank's super star Le Bernand, 1st National St Vincent 13472b and ½ sister Helios.
Lot 40 NL21-1274467 CHEQ C "Jonge Eros" A superb son of super breeder Eros.
Lot 41 NL21 21118678 BLUE H "Stay Lady" A superb direct child of Helios.
Lot 42 NL21-2118677 BLUE C "Berny" a direct son of Bernardino and Le Femme Susan, both great performers last season.
Kristof Carpentier
Erwetegem (B)
Each year we try to introduce a new fancier to the UK market, for 2022 we are including Kristof Carpentier from Erwetegem in East Flanders, a close friend of Joost de Smeyter-Restian he has supported the sale in recent years by attending Blackpool with Joost. A keen long distance and marathon flyer he started with pigeons in 2011 introducing the best available bloodlines including 2nd National Orange from Julien de Potter, 2nd National Marseille from J Goovaerts, "Snelle Jelle Jnr" of Arjan Beens, blended with pigeons from Peter Taildeman and Noël Lippens. In recent years these have been supplemented with a heavy investment at Joost de Smeyter-Restien (Laval and Celsius line). Career highlights include 13th National Limoges 2018, 49th National Cahors 2015, 51st National Pau 2018, 62nd National Cahors 2018, 73rd National Tulle 2018, 80th & 83rd National St Vincent 2018, 85th National Cahors 2017, 89th National Montauban 2015. They also perform for others for example Leny Van de Linden 24th & 43rd National La Souterraine 13,089 Youngsters 2013 and 9th National Pau 2,767 b and 150th International 12,119 b for Joost de Smeyter-Restiaen in 2019.
Lot 43 B21 4023983 BLUE H "Inbred Snelle Jelle" a superb direct dtr of Champion Jelle Junior.
Lot 44 B21 4023085 BLUE H a direct dtr of top breeding hen Lore 28 and gdtr of 1st International Barcelona winner Floorke.
Rik Hermans
Kloosterstraat 9, 2243 Pulle (B)
2019 saw Rik achieve his fourth outright National Victory from Issoudun against 11,468 Yearlings (fastest from 19,746 pigeons) with "Chucky" to complement 1st National Bourges 24,676 old birds in 2011 with Cowgirl,1st National Chateauroux 25,710 yearlings in 2015 with Friendship and 1st National Bourges 28,078 youngsters with Nike in 2016,  In 2021 Rik won the 3rd Nat. La Souterraine 14,315 Youngsters (1st Prov. 2,653 d.), 7th Nat. Chateauroux 22,196 Yearlings 9th Nat. Issoudun 9,777 Old Birds, 2nd and 3rd Prov. Bourges 4,313 Old Birds (75th-86th Nat. 34,311 d.) etc. 12th Nat. Ace Pigeon Long Distance Old Birds and the 4th and 11th Nat. Ace Pigeons Long Distance Youngsters. Winning across the board at the highesrt level in the UK and Ireland and who could not be aware of "James's Legend" Ace Pigeon Pioneer Club and sold for a world record price of €2.78 million bred direct from "Nestzuster Nike" brought at the Gouden Duif auction.
Lot 45 B21 61677488 BLUE C "Chucker" a signature lot from Rik, a direct son of Chucky 1st National Issoudun 11,468 Yearlings and fastest 19713b.
Lot 46 B21 6167496 CHEQ H "Perfect Amo" the first ever child of Riks new champion Amica, to be offered in the UK.
Lot 47 B21 6167498 BLUE C "Inbred Friend" inbred to the super racing and breeding Champion Friandship.
Lot 48 B21 6167494 CHEQ C "Roger" a superbly bred young cock bird. The Hermans Family deal in the world's best pigeons, the dam of this lot is Chateauroux'ke 1st National Chateauroux 24617b for Roger Brunix (bred by M Lossignol).
Lot 49 B21 6167298 BLUE H "Inbred Nike" Inbred to Riks absolute best, Chucky and Nike.